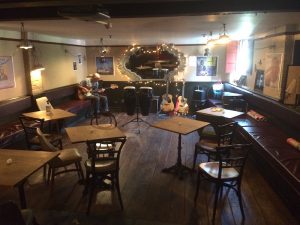 FIRST THURSDAY CLUB
All live music at The Hourglass has been postponed. But we are now booking gigs for 2021. Contact Rob Brown on 07973 779558 or email brownstheword@gmail.com for further details. 
The First Thursday Club @ The Hourglass hosts live blues and roots music in the basement on the first Thursday of each month, 8pm start. Tickets are available on the door or in advance at Facebook.com/FirstThursdayClubHourglass.
The Club also presents gigs featuring live music from other genres – not necessarily on Thursdays.
Thursday 15 April 2021: Otis Gibbs
Thursday 6 May 2021: James Dixon
Thursday 5 August 2021: Lewis Creaven
Note: We hope to get Vera Van Heeringen, booked for October 2020, back in 2021.