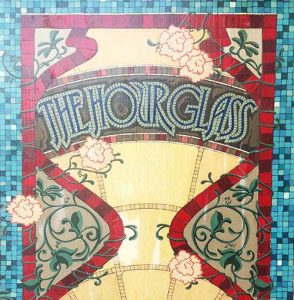 We are delighted to announce the Hour Glass Inn reopened it's doors on Wednesday 8th December.
Our opening hours are:
Monday, Tuesday and Wednesday; 17:00 to 23:00
Thursday:12:00 to 23:00
Friday and Saturday; 12:00 to midnight

Sunday; 12:00 to 23:00
Our new dining room is open and dinner is available Thursday, Friday and Saturday evenings, and lunch Friday, Saturday and Sunday. Snacks and light meals are available at all other times
Our sample menus may be viewed below
……………….
STAFF RECRUITMENT We are recruiting staff for all areas of work; Chefs, bar staff, kitchen help and waiting staff.
…………………
Our menus
Note: All our offerings are subject to availability
Full allergy information is available on request
Week five lunch and dinner menu
To start
Chicken liver pâté, gherkin, chutney, toast £8
Potted mackerel, capers, dill & parsley on toast £8
Fish soup, croutons, grated Emmenthal, rouille £10
Roasted carrot, beetroot humous, toasted seeds & smoked oil (V) £9 
Main courses
Fish stew: Cod, squid, mussels, chickpeas £18
Spaghetti with mushrooms, spinach & parmesan £16
Chicken pie, mash & cabbage £16
8oz Devon rib-eye, chips, watercress (+gorgonzola £2)  £26 
 Also 
Bread & oil/balsamic £3.5 
Chips & mayo £4.50 
Olives £4 
Puddings & Cheese
Apple crumble, vanilla ice cream (or vegan ice cream) £7 
Chocolate torte, blackcurrant, crème fraiche £8 
Vanilla ice cream, warm caramel sauce £6 
Two cheeses: Cotswold brie & Stilton with crackers, grapes & chutney (V) £9 
A selection of dessert wines & ports are available
Sample Sunday Lunch Menu
Roasts
Roasted breast and thigh of Chicken, served with Paxo stuffing £16
Roast Sirloin & slow cooked brisket of Devon Ruby beef £16
Belly of free-range pork, with apple sauce £16
Cashew, peanut, mushroom & pepper roast (Ve) £15
Puddings, cheese and snacks as main menu.
DRINKING AND DINING WITH US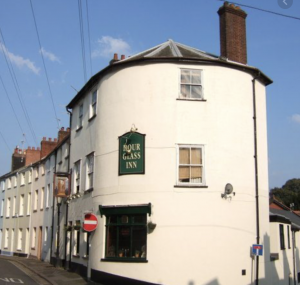 hourglassinn@exeterbrewery.co.uk
01392 258722